Desmodium & Fatum Aeternum rock bands are kicking off the first weekend of 2017!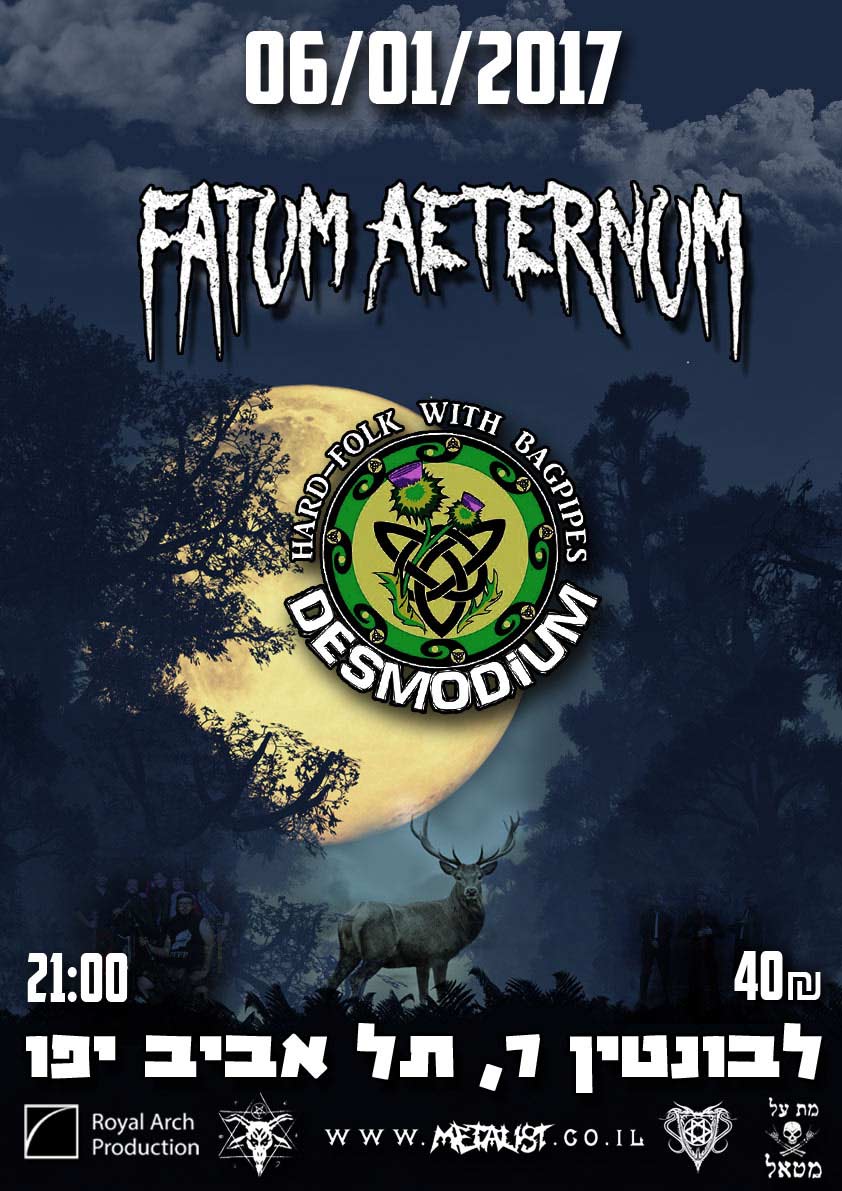 On the first Friday of 2017, 2 rock bands will share the stage in Levontin 7 club in Tel-Aviv and bring an unforgettable experience of unique rock music – Desmodium is based on medieval esthetics, including authentic poetry and instruments. Fatum Aeternum – the veterans of gothic live music in Israel presenting a theatrical and highly emotional show to bring out the deepest, sincerest and overwhelming emotions we all have.
Short Bios:
DESMODIUM is an Israeli hard-folk band originating from Beersheba.

The band's musical style combines hard-rock with medieval traditional songs in a variety of languages, including Gaelic, English, Old Swedish, Breton, Occitan, Savo Finnish, Latin and Old & Middle High German, blending the sound of the standard rock instruments with historical instruments (such as bagpipes, irish whistle, flute).

In 2013, Eric and Miri Gershkovich launched a musical project based upon Carmina Burana, a medieval collection of poetry. Later, they were joined by Dmitry Natanel, Michael Volinskiy, Alex Vainer and Lev Etin, thus completing the lineup. The band was titled DESMODIUM after a "dancing" flowering plant, sometimes called tick-trefoil or tick clover.

Group Members:
Miri Gershkovich - lead vocal, percussions
Erik Gershkovich - bagpipes, percussions, back-vocal
Dmitriy Netanel - guitars, back-vocal
Lev Etin - keyboards, flutes, melodica, percussions, back-vocal
Michael Volinskiy - Bass-guitar, back-vocal
Alex Vainer – drums
Fatum Aeternum
Fatum Aeternum is the most long-living gothic/dark art project in Israel, first formed in 2006 playing medieval and renaissance music in metal arrangements.
For long 8 years the band went through exhausting and somewhat devastating search for stylistic identity, going from darkwave to cabaret, from cabaret to swing and jazz and back to rock/metal. Throughout the years the band managed to accumulate a small but loyal and highly appreciated audience in Israel and beyond.
Current line-up:
Steve Gershin (Vocal, Vass, Keyboards)
Evelyn Shor (Vocal, Violin)
George Falk (Guitar)
Mark Muzykant (Percussions/Drums)
Link to facebook event:
https://www.facebook.com/events/1277394785653173/
Event Map:
published on: 08/12/2016